The OC Press has always loved the Friendly Indians:
"How can you go wrong with Orange County's Friendly Indians, a band that's as funny as it is musical? Both on the band's debut, Greetings...From Lake Dolores and the follow-up, Pure Genius, they play an infectious brand of wry rock."- Robert Kinsler, OC Register
"The band has a penchant for novelty songs along with the more serious stuff, and on "Pure Genius" it pulls off some good ones, which is no small feat". - Mike Boehm, LA Times
"With a sound that combines a bit of The Beatles, a touch of The Police, and plenty of Barenaked Ladies, the group is fast becoming one of the sharpest traditional pop acts in O.C."
- Ben Wener, OC Register
"They enjoy playing and connect well with the crowd. The Friendly Indians are definitely worth checking out." - Marie Loggia, Comcast Online
"The Friendly Indians emerged as the day's strongest local entry, offering an engaging set of melodic pop-rock from their likable "Greetings...From Lake Dolores" CD. The emotionally charged "You Sometimes", hard-driving "Stateline" and a thought-provoking blast at stereotypes, "If I Was Gay", were among the Orange County quartet's highlights." - John Roos, LA Times
Friendly Indians CDs
Pure Genius

Spin • Optimistic • It's a Gift • Great Mistake • Tumblweed • Fat Tuesday • Acceptance Speech • Genius • Ken's Beard • Defeated • Chupacabras

Greetings...From Lake Dolores

Tryin' to Get Over You •She Lies • Nowhere Town •Grim Grinning Ghosts • Stateline • Ever So Slowly • You Sometimes • If I Was Gay •Dragging My Heels • The Jennifer Schubert Song • Pump Room
Tiny Badness, the EP

The Best Man Lies

Fall Together

Vancouver

Just This Side of Insincere

If I Was Gay (Live)

SOLD OUT
Get an Injuns T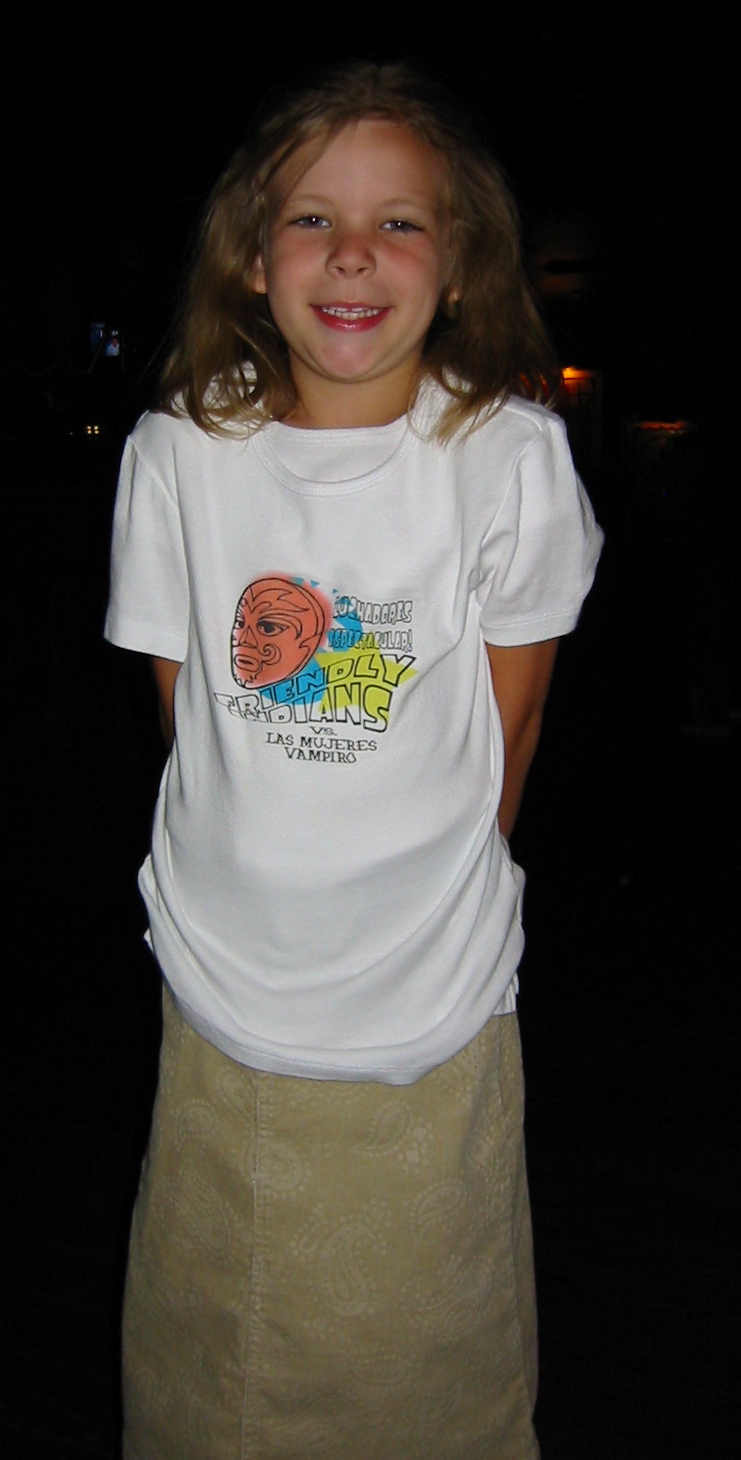 Go ahead and try to look this cute in our new Friendly Indians Tshirt, created by graphic artist Rick Martin (design below).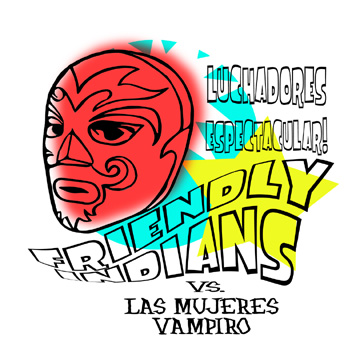 The Injuns celebrate the proud tradition of Mexican wresting with our new heavyweight, 100% cotton tee.
We also have a limited number of LADIES baby-tees.
Email us to see what's in stock
---
ALSO AVAILABLE:
Classic original Friendly Indians tees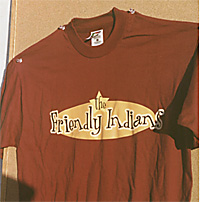 100% Cotton. In L only
Navy, Green or Burgundy
SOLD OUT